Lumen Private Event Space Wedding
Lumen Private Event Space Wedding
The only thing better than making a living photographing people's happiest moments is when you get to share in the celebration for one of your friends. This time, I was pleased to travel to St. Louis for the wedding of one of my former colleagues, Jessica, and her new husband David. In her former life in Los Angeles, Jessica helped create beautiful albums for countless brides and grooms. Now, as a bride herself, it was her turn to call the shots – and I was more than happy to oblige!
I caught up with Jessica as she was getting ready for her big day at the St. Louis Hilton. We then set off for The Lumen Event Space, a contemporary venue in Downtown St. Louis where the ceremony and reception were to be held. With her hair pulled back into a classic chignon, her stunning backless lace wedding gown took on a life of its own. The rest of the wedding party wore modern yet tasteful ensembles: steel grey 3-piece suits for the men and short, solid color cocktail dresses in green and lavender hues for the ladies. The entire wedding party perfectly complemented not only the beautiful bride, but also the assorted springtime blooms used in Jessica's long-stemmed bouquet, and the tall glass flower-filled centerpieces that adorned the tables during the reception.
In my line of work, I get to capture happy faces of friends and relatives smiling joyfully for the couples they have come to celebrate. With Jessica and David, it was my honor and my pleasure to count myself among those friends and be a part of their special day.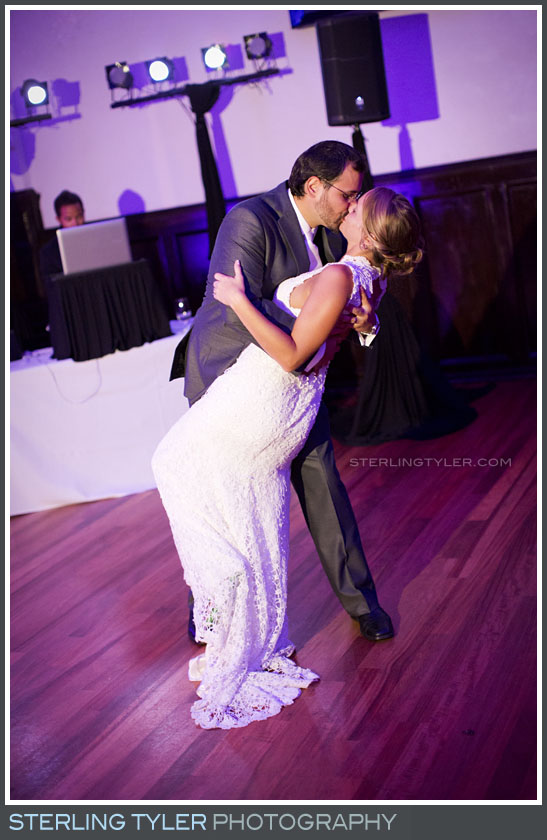 Lumen Private Event Space Wedding